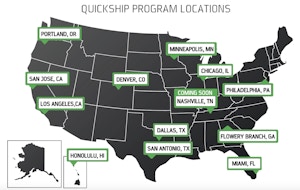 EMERGENCY REPLACEMENTS 24/7/365
Agriculture, pharmaceutical, transportation, commercial, and many more industries rely heavily on the ability of their HVACR systems to maintain optimum temperatures. When things go awry and a compressor fails, the damage and associated costs can be tremendous if the issue is not quickly resolved.
We at BITZER realized this inherent risk to the end-users and formed a solution. A network of 12 distribution locations along with our central headquarters allows us to offer emergency replacement services across the United States, providing peace of mind for our customers.
We aim to have replacements on site within 24 hours.
LOCATIONS
// Chicago, IL
// Dallas, TX
// Honolulu, HI
// Denver, CO
// Los Angeles, CA
// Miami, FL
// Minneapolis, MN
// Nashville, TN (Coming Soon)
// Philadelphia, PA
// Portland, OR
// San Antonio, TX
// San Jose, CA
// Flowery Branch, GA (headquarters, manufacturing)